Exhibition Space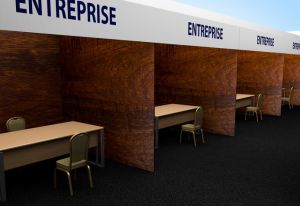 Dear Participant,
During the 18th Meeting of Parties, the CBFP as the unique global platform that promotes the Congo Basin forests, will give its members an opportunity to showcase and inform the public on their objectives, priorities, programs and activities. In keeping with past practice, an exhibition area will be set up on 27 and 28 November 2018 in Brussels (Belgium).
Exposition Roll up on 27 November at the Musée Royal d'Afrique centrale
A special note exclusively for partners who would like to run an exhibition stand on 28 November: you are invited to conduct a Roll up exhibition on 27 November at the Musée royal d'Afrique centrale. Below are details of what will be needed to produce the Roll up:
File size set to 100%, 85 cm wide and 207 cm high (see attached drawing)
High resolution pdf file (100dpi), no crop marks, no bleed.
CYMK file (no RVB colors, no Pantone colors).
Production of 85 x 200cm roll-up banner: ± 80€ apiece, excluding VAT.
The A0 visual (84 x 120 cm) will take up the top of the roll-up.
The 80cm lower part can remain blank, leaving room for text and/or logos.
To get a roll-up banner, please contact Mr David Wouters david@kaligram.be with CC to pierre.proces@agreco.be
Exhibition stand on 28 November at Palais d'Egmont
What you need to know before ordering a stand
Each stand will cover a 9m2 area, including 3 x 3m for a carpet, a pediment (bearing the exhibitor's name in black font against a white background), a rectangular table + chair for the stands (2), electricity (1 lighting system and 1 socket for the stands) and follow-up throughout the event.
Renting a stand costs 720 Eur (VAT included = 871,2 Eur) and includes all maintenance and other services needed to run the stand. Given their limited number (10 spaces), stands will be allocated on a "first registered, first served" basis.
The exhibition area will be accessible free of charge to participants in the 18th Meeting of CBFP Parties.
Orders for stands should be sent to the following address: sb@visu.be with cc to pierre.proces@agreco.be and pascale@visu.be.
The e-mail subject line should read: CBFP2018/exhibition stand
Deadline for orders: LATEST 06/11/18, orders may be received after this date subject to a 35% increase in the price.
Deadline for payment of full amount: 10/11/18
If we have not received the payment by the deadline, i.e. 10 November 2018, no stands will be set up for exhibitors who have not paid.
N.B. This is the estimated budget for 10 stands, should there be fewer stands, the price per stand may increase accordingly.
The Organizing Team of the 18th CBFP MOP